BAFANG M325 50.4V 500W 68MM Mid Drive Motor Electric Bike Conversion Kits

Turn your bike into an e-bike - with Bafang motors 
In addition to the normal commercial e-bikes, there are lots of conversion systems available. "Bafang" is one of the leading manufacturers in this area - both for e-components and complete systems.
Note: The M325 drive systems with CAN protocol, this motor is only compatible with the BT F22/F23 batteries. Bafang M225/M325/M625 drive systems can only be used on vehicles intended for off-road use and designed to travel on unpaved surfaces. Please make sure to comply with local laws and regulations.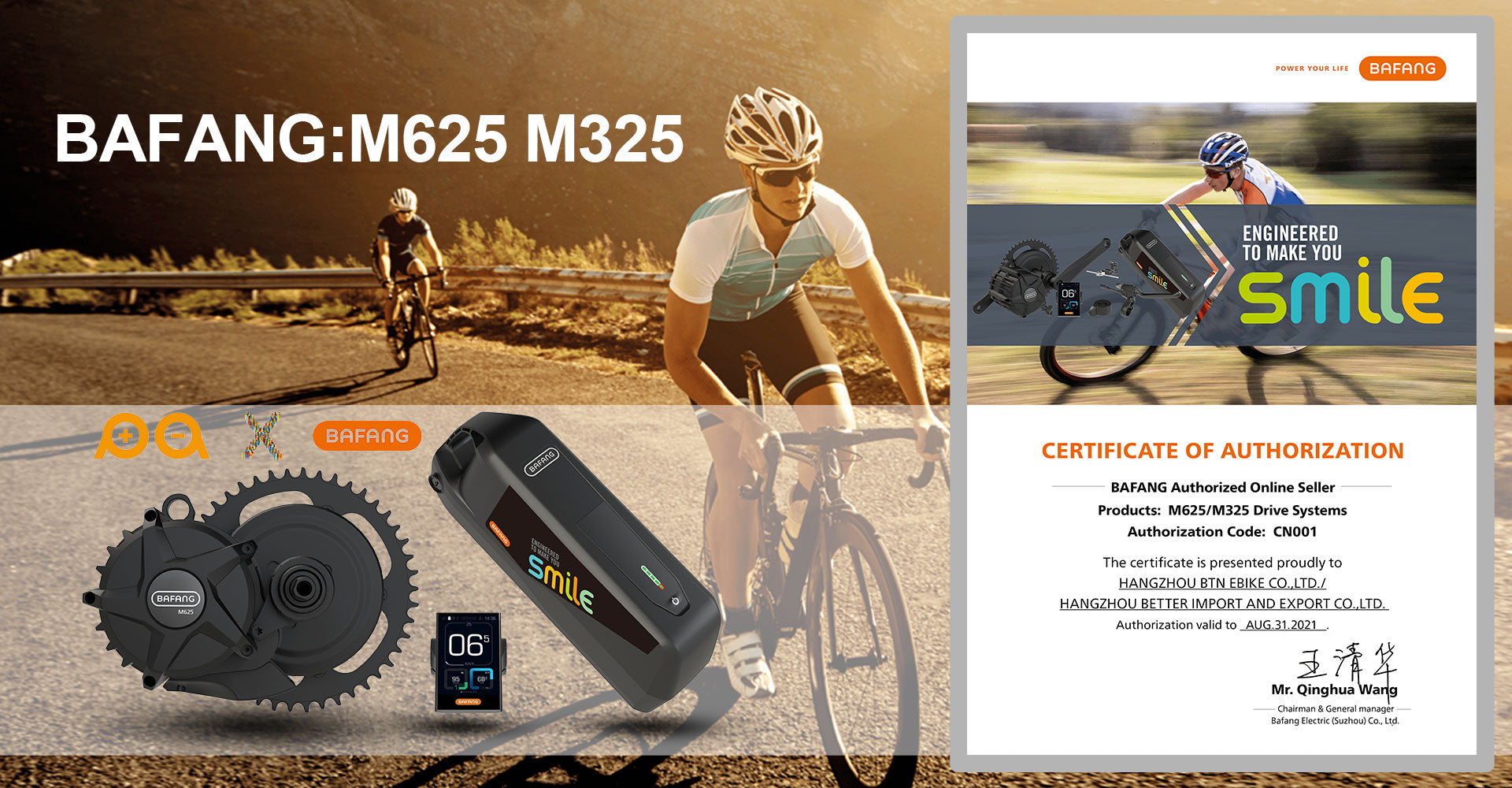 This is a complete conversion kit - with all necessary parts - for you and your bike! 
Order  |  Assemble  |  Ride
This conversion kit contains the following components:
500W motor with all necessary cables and fixing parts

Bottle mount battery(50.4V9.5A/50.4V14.3A/50.4V19A are available, 21700 cells)
Functional principle and advantages of Bafang M325 mid-drive motors 
Compared to the hub motor, the mid-drive motor doesn´t transmit the power directly to the wheel, but the bicycle chain. This means, your rear bicycle gears can also be used with a motor assist, which is not only an advantage when riding uphill. Further advantages are ideal weight distribution, low center of gravity, and a very natural riding experience. Furthermore, the front and rear wheels can still be changed without any problems.
Bafang M325 motor function is very simple: The electric motor powers the front chainring with an internal gear ratio of 22:1. An integrated clutch makes it possible, that the crank arms won´t be moved while the chainring rotates forward.
Bafang M225/M325/M625 advantages:
The Motor is very silent.

Pedaling resistance is very low, even without system operation

Bafang M225/M325/M625 motors are very low maintenance

Spare parts available and easy to change for yourself 

Magnesium alloy shell, better heat dissipation
 Technical comparison of our 4 different Bafang motors: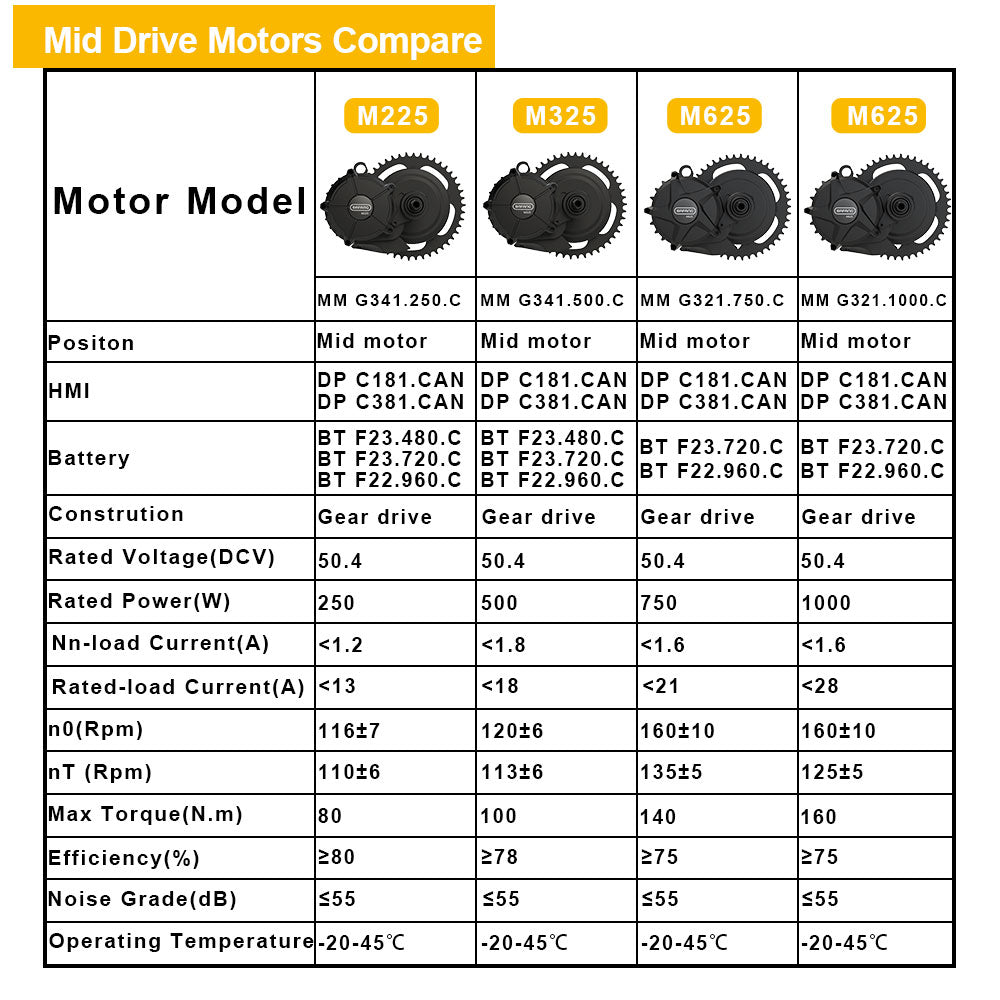 From Bike to E-Bike - but how to do? 
The conversion is very easy and can be done by anyone with a little manual skill. Briefly described(In our video, we have shown this in detail):
The bottom bracket has to be removed

Mounting Bafang motor by fixing with triangle and both lockrings and clamp

Battery fixing on the bottle holder

Connecting the cables
M625 DIY System Review:
This video has shown this in detail:
New DIY System Unboxing Video:
Motor Specification:
| | |
| --- | --- |
| Motor model: | MM G341.500.C |
| Rated power:  | 500 W |
| Rated voltage:  | 50.4V |
| Rated efficiency:  | ≥78% |
| No-load current: | <1.8A |
| Rated current: | <13A |
| No-load speed:  | 126±10RPM |
| Rated speed:  | 116±8RPM |
| Rated torque: | >40N.m |
| Maximum torque:  | >100N.m |
| Axis speed sensing:  | Cadence Sensor |
| Certification: | UL / ROHS / EN14766 /EN14764 |
| Outdoor Temperatures: | '-20℃~45℃ |
| Relative Humidity: | (15-95)%RH |
| Noise (dB): | ≤55 |
Battery Specification:
| | |
| --- | --- |
| Base Parameter: | BT F22.960. C |
| Nominal Voltage: | 50.4 DCV |
| Nominal Capacity: | 19.6Ah |
| Rate Capacity | 19Ah(@1C/25℃ Discharge) |
| Energy | 960Wh |
| Continuous Charge Current | 4 A |
| Charging time | 6.5 with 4A Charger |
| Storage( At 35% SOC &-10~35℃) | 6 Months (need to charge) |
| Cycle Life | 600 (70%SOC(@25±5°C, Charge @0.2C and discharge@0.5C)) |
| Riding Distance | Minimum 80km( 1000W motor) |
| Dimension(L*W*H) | 375*100*149mm(±1mm) |
| Weight | Appr. 6.0 KG |
| Charger | Special 5P charger |
| Certification | UL/UN38.3/MSDS/13849 |
| Warranty | 12 Months |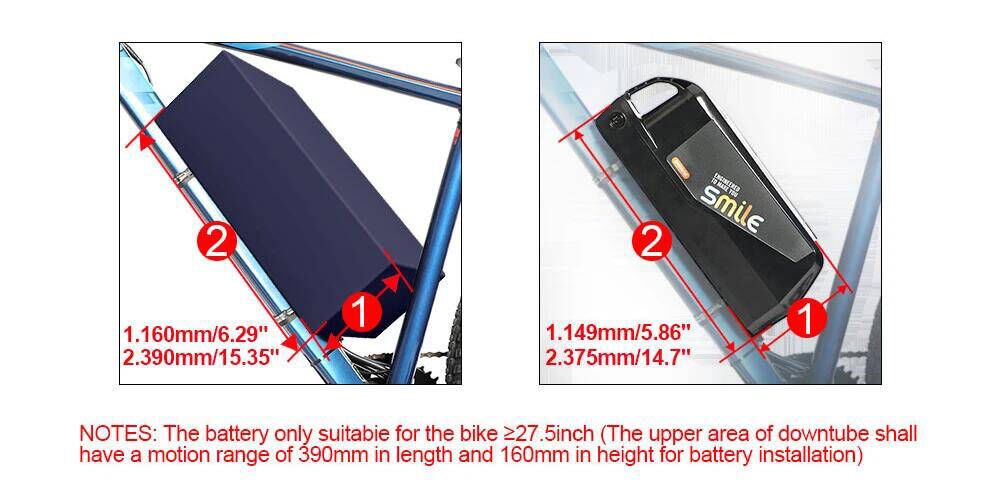 More Information:
1.Import Duty Description:
a.Customers duty and VAT paid by us for the EU, AU, RU, UK, US.
b.Shipping free in normal areas. Remote areas may be charged, Tax is paid by the customer.
2.Warranty Explanation
30 months warranty for the motor kit. 12months warranty for the battery. Our company only repairs the damage caused by the correct use of the product during the warranty period. Please read the precautions of the product carefully.
3.Motor Bottom Bracket Size
M325 500W is 68mm
M625 750W is 68mm/100mm
M625 1000W is 68mm/100mm
68mm is suited for 68mm-73mm bike, 100mm is suited for 98mm-102mm
4.Battery notes:
a, It is recommended to charge the battery after use. But never fully discharge the battery.
b, When the battery is not used for storage, the recommended capacity of the battery should be between 60%-80%
c, Do not charge the battery longer than the charging time specified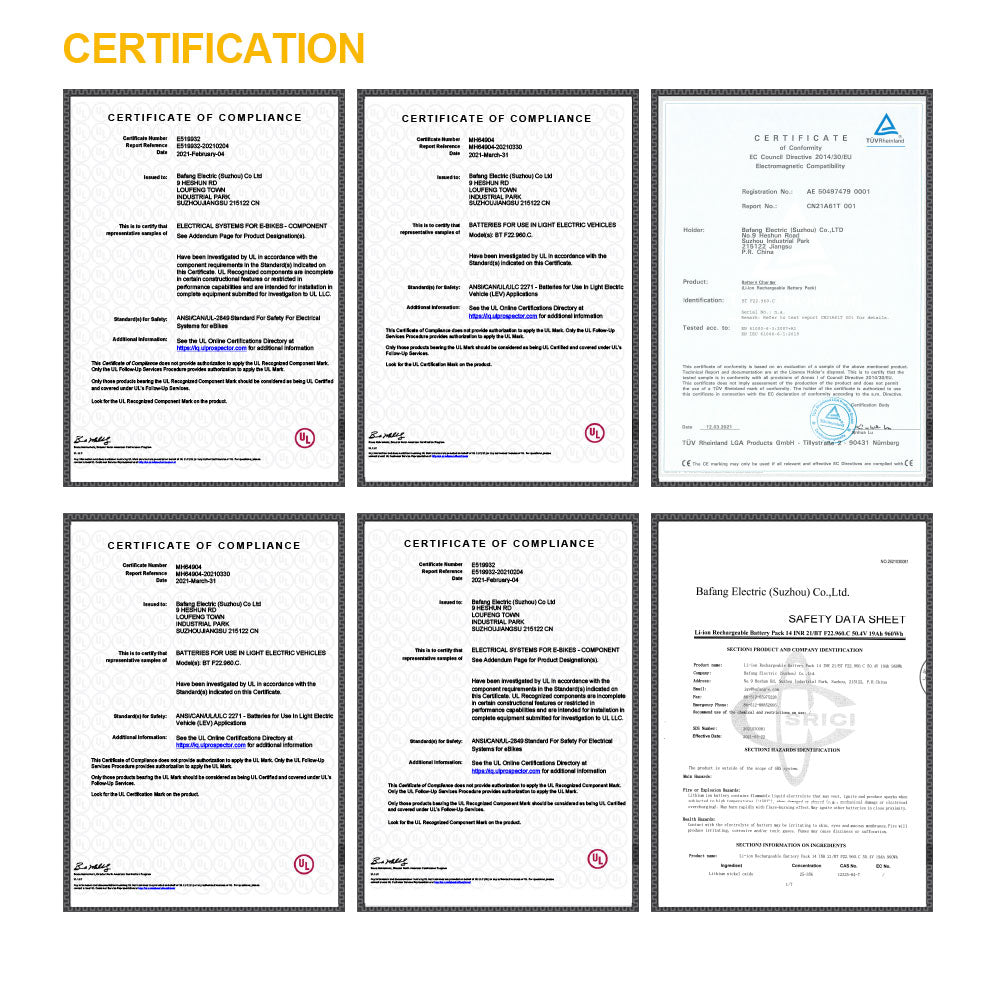 FAQ
Q: How do I know whether this kit will be suitable for my bike?
A: The kit will only suitable for the bike≥27.5inch
(The upper area of downtube shall have a motion range of 390mm in length and 160mm in height for battery installation)
Q: Can I buy the battery from other sellers to match the motor to use?
A: This New M325 & M625 motor is only suitable for the BAFANG 50.4V battery, if you use another type of battery, it will not suitable.
Available downloads:

Thank you for using BAFANG products.When using or modifying prrameters, please make sure to comply with the local laws and regulations.


Warranty:
This warranty is offered only for the initial buyer or the designated brand in Europe, North America, Japan, Hong Kong, Macao and mainland China. Customers in other regions should contact their BAFANG representatives for information or contact  service001@e-bikeconversionkit.com
LIMITED ONE-YEAR WARRANTY AND POLICY ON REPLACEMENT PROCEDURES & RESPONSIBILITIES
Under compliance with local law and reasonable use, the warranty period ends 12 months after the date of sales. Free repair by seller and the buyer undertake the return shipping cost.
The warranty may not be transferred to a third party other than as specified in the agreement with BAFANG&EUNORAU.
Other situations may be covered, depending on the agreement between BAFANG&EUNORAU and the buyer.
WARRANTY PERIOD AND TARGET AUDIENCE TERMS
The warranty would be registered automatically when the initial purchaser ordered it in the online shop. So the warranty is under the INITIAL PURCHASER and the one-year warranty would be started since the initial owner has received it.
As for the warranty transfer, the ebike transfer can only enjoy the warranty when the following two conditions are met at the same time:
The one-year package hasn't expired since the initial owner has received it.
You have the initial owner's name & the initial order number.
COVERED PRODUCTS
EUNORAU will replace any component that is deemed to be defective or damaged (including damage incurred during shipment) without user error. The warranty covers the listed products and follows the terms below:
Frame
EUNORAU ebike frames are covered by a replacement warranty for one year.
This warranty includes a replacement frame only. Labor charges to changeover parts to replacement frames are not included. Changeover labor must be performed by an authorized EUNORAU.
EUNORAU reserves the right to use scratch and dent stock when replacing a frame under this warranty. Frame styles and/or colors not in stock may be replaced with a compatible style and/or color at the discretion of EUNORAU.
Frame issues that are excluded from this warranty include but are not limited to:
Corrosion
Paint fade, scratches, impact marks
Impact damage
Non-reversible modification (drilling/welding)
Chain guard mount to the frame if applicable
Batteries
EUNORAU batteries are covered by a one-year prorated warranty.
During one year of service – A defective battery will be repaired or replaced at no cost to the customer. The warranty period for a repaired or replaced battery remains unchanged based on the original purchase date.
After the first year of service – A prorated credit, based on months of service, will be applied toward the purchase of a new battery. Batteries purchased at pro-rated cost will have a new one-year warranty based on the pro-rated purchase date.
No cash reimbursement will be made.
Batteries can be assessed and found defective directly by EUNORAU only.
This Limited Warranty does not cover:
Ordinary wear and tear not the result of defects in workmanship or materials. Wear and tear can be assessed by EUNORAU. Parts not typically covered include but are not limited to:
Brake Pads
Rotors
spokes
Tires/Tubes
Chains
Chain Rings
Cassettes
Crankset
Parts compromised due to corrosion due to the elements (moisture, heat, etc).
Damage or deterioration of the surface finish, appearance, or aesthetics of the product.
frame, forks, handlebar, seat post, saddle, brakes, lights, crankset, pedals, rims, wheel hub, freewheel, cassette, derailleur, shifter, motor, throttle, controller, wiring harness, LCD display, kickstand, reflectors, and hardware. Warranty within one week after receiving the goods. Parts damaged during use after seven days need to be charged.
Labor charges for part replacement or changeover.
Defects or damage resulting from accident, abuse, misuse, abnormal use (including but not limited to stunt riding, racing, or other similar activities not consistent with the intended use of the Products), improper storage, abnormal exposure to liquid, chemicals, moisture, abrasives, sand or dirt, neglect, or abnormal physical, electrical or electromechanical stress.
Scratches, dents, and cosmetic damage not caused by EUNORAU.
The product that has the serial number or the bar code removed, defaced, damaged, altered, or made illegible.
Defects or damage to the Products caused by the use of accessories, products, or ancillary/peripheral equipment not furnished or approved by EUNORAU with the Products.
Defects or damage caused by improper assembly, testing, operation, maintenance, installation, service, repair, or adjustment in a manner that varies from Assembly Instructions & Owners Manual.
Defects or damage resulting from external causes, such as collision, fire, flooding, windstorm, lightning, earthquake, exposure to weather conditions, theft, blown fuse, or improper use of any electrical source.
In addition, with respect to the battery, this Limited Warranty does not cover defects or damage:
Caused by charging by a battery charger not intended or appropriate for use with the Battery or the improper use of a battery charger;
Where any of the seals on the battery are broken or show evidence of tampering;
Where the Battery has been used in equipment other than the Bike for which it is specified;
Parts & Components
Original EUNORAU parts & components are covered by a one-year limited warranty (When all the spare parts for the warranty are sent to the customer, the customer needs to bear the freight).
CLAIMS PROCESS
Warranty Claims
All claims to this warranty must be made through EUNORAU. and submitted to info@eunorau-ebike.com. Proofs of purchase and photos or videos of the damaged product are required with any warranty request. Before making a warranty claim, we suggest that you contact us at info@eunorau-ebike.com as there may be a simple fix for your problem. Valid warranty claims will be processed through EUNORAU within one year of initial purchase.
EUNORAU will not replace any part without first seeing photos or video of the damaged product. Customers need to provide us with evidence by email.
Shipping Damage Claims
In rare instances, the item received may be damaged during transportation. If shipping damage occurs, please contact info@eunorau-ebike.com and provide us with photo or video proof.
All free accessories will not participate in the replacement or compensation if they cause scratches during transportation.
NOTICE: we will not accept Shipping Damage Claims later than 7 days from receipt of products.
REPAIR SERVICE
For offline bicycle store repair services, EUNORAU will only provide free replacement parts. We do not reimburse any labor costs produced in the repair service.
We are proud and privileged many bicycle buyers around the world use BAFANG series of products.
BAFANG has created the following warranty, -based on the BESST system – which makes it possible to track and address service issues for BAFANG products.
Warranty period for products:
Under compliance with local law and reasonable use, if no valid invoice can be provided, the warranty period ends 6 months after the date of manufacturing (as indicated by the serial number); if valid invoice can be provided, the warranty period ends 6 months after the date of invoice, however,the longest warranty period is limited to a maximum of 9 months from manufacturing date.
The warranty may not be transferred to a third party other than as specified in the agreement with BAFANG.
Other situations may be covered, depending on the agreement between BAFANG and the buyer.
Warranty Exclusions:
1、  BAFANG products that have been modified or repaired without authorization
2、  BAFANG products that have been used for rental, commercial applications, or competition
3、  Damage resulting from causes other than defects in material or manufacture, including but not limited to an accident, neglect, improper assembly, improper repair, improper maintenance alteration, modification, abnormal excessive wear or improper use
4、  Damage during shipping: The party's responsible for the damage must be determined using INCOTERMS regulations.
5、  Damage to the surface finish, aesthetics, or appearance
6、  Damage due to buyer's improper transportation or storage
7、  Failure due to an unreasonable user configuration or unauthorized changes in the relevant accessories parameters
8、  Damage or loss due to force majeure
9、  Damage or failure to components not manufactured by BAFANG, even if sourced through BAFANG at buyer's request
Please contact the Service Center (service001@e-bikeconversionkit.com)for more information or to request repair.
Cancellation

We accept order cancellation before the product is shipped or produced. If the order is canceled you will get the full refund. We cannot cancel the order if the product is already shipped out.For rejection, we have to refund you after deducting the shipping cost.

Returns (if applicable)
We accept a return on products. Customers have the right to apply for return within 7 days after the receipt. To be eligible for a return,customers must receive the product in 100% new, Re-sellable condition. Merchandise is not eligible for a refund if it has been assembled, ridden, worn, used, abused, damaged in any way. The merchandise must arrive complete, including warranty cards, manuals, accessories,promotional material, and in the original packaging.Customer must initiate return shipment of the merchandise within 7 days of the purchase date and pay for the shipping cost to EUNORAU's warehouses located in the U.S. We will finish the inspection within 5 days after receipt of the product. If the returned products are not in original condition according to Clause, We will refuse a refund.If the returned products are in original condition according to Clause, We will agree to refund the paid amount.
Refunds (if applicable)

Once your return is received and inspected, we will send you an email to notify you that we have received your returned item. We will also notify you of the approval or rejection of your refund. If you are approved, then your refund will be processed, and a credit will automatically be applied to your credit card or original method of payment, within a certain amount of days.

Late or missing refunds (if applicable)

If you haven't received a refund yet, first check your bank account again.
Then contact your credit card company, it may take some time before your refund is officially posted. Next, contact your bank. There is often some processing time before a refund is posted. If you've done all of this and you still have not received your refund yet, please contact us at service001@e-bikeconversionkit.com
Please contact our Customer service at service001@e-bikeconversionkit.com to get the returned address.
Ready for today.
Built for tomorrow.